If you want to get married in Tuscany, the Wedding planner Tuscany service has the right contacts with the most exclusive locations and above all the ability to turn your dreams into reality. Wedding Planner Italy has created a special service for those wishing to marry in Tuscany, why?
Here you are the reasons for Wedding planner Tuscany
Tuscany is a unique region where art and culture abound, from Dante to Collodi, passing through Michelangelo to Leonardo Da Vinci.
Because in Tuscany the flavors are tasted with all the senses. An explosion of flavors, aromas, scents and nuances, for an experience of real ecstasy for the body and soul. From the meat to the vegan, the Tuscany cuisine will satisfy all your wishes.
The microclimate of the Tuscan hills is unique and allows you to get married in summer, spring, winter, choosing the city, the sea or the hill.
The Wedding Planner Italy service evaluates and considers each characteristic and specificity of Tuscany and processes it according to your requests; creating the perfect mix to plan a unique and unforgettable experience.
We are not the best for everyone, but we are the best for you!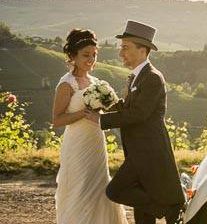 We do not propose a standard solution because we are convinced that every customer is unique and should be treated as such. Our offers are literally built only after you have known and appreciated what you would prefer. We will give more emphasis to the aspect you feel important. Documents, ceremony, reception, transportation etc., we will handle the boring and bureaucratic part. You always control everything 100% but we will run for you. We will propose you to choose from the various options we have prepared, based on your suggestions, for you.
With the Wedding planner Tuscany service, all that you have only dreamed, can become reality! Choose the best for your wedding in Italy, entrusted with Wedding Planner Italy and transform your dream into reality!